Strategy Spotlight: Corporate Buyout Client Segment
"The off-site is the new return to office: remote teams are increasingly leveraging regular or periodic off-site events to strengthen company culture and foster connections among colleagues." — Wall Street Journal, "The Off-Site Is the New Return to the Office"
The pandemic impacted life in many ways, but one of the most obvious was the proliferation of the work-from-home (WFH) setup. As you can see in the below table from the Skift and TripActions 2022-23 "State of Business Travel" report, which garnered responses from more than 700 corporate travel and finance managers as well as more than 1,100 business travelers, companies continue to shift to remote and partially remote policies.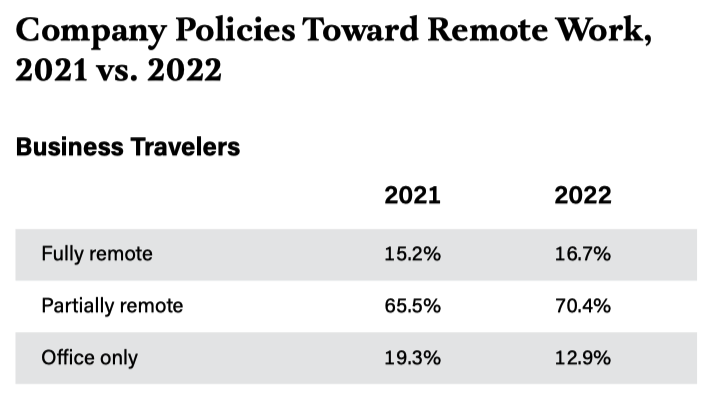 Scenes from a YPO event hosted at our Edgecamp Sporting Club location in the Outer Banks of North Carolina.
One side-effect of these remote work policies is the realization that in-person interaction cannot be entirely replaced by virtual interactions, despite Zuckerberg's efforts with the metaverse. As such, there's been renewed interest in corporate off-sites/retreats, including a recent Wall Street Journal showcase titled "The Off-Site Is the New Return to the Office." The feature discusses how remote teams increasingly leverage regular or periodic off-site events to "strengthen company culture and foster connections among colleagues."
As the WSJ explains, we are "in the nascent stages of using off-sites as the new on-site, some companies are considering short gatherings in which staffers meet at hotels, restaurants, Airbnb mansions—or even in the office—collaborating on work while also reconnecting socially… Some companies have begun allocating funds to individual teams, meaning just five to 10 people might get together at a ranch in Colorado, a high-end restaurant or a wellness spot in Silicon Valley."
As evidenced in the Skift study, 63% of business travelers were "strongly" or "somewhat" excited about scheduling and attending regular off-site gatherings to stay connected with colleagues during the pandemic, which we do not expect to abate soon. Additionally, the Skift report showed a significant year-over-year jump in the desire to participate in one or more off-sites to connect with co-workers, further supporting this trend.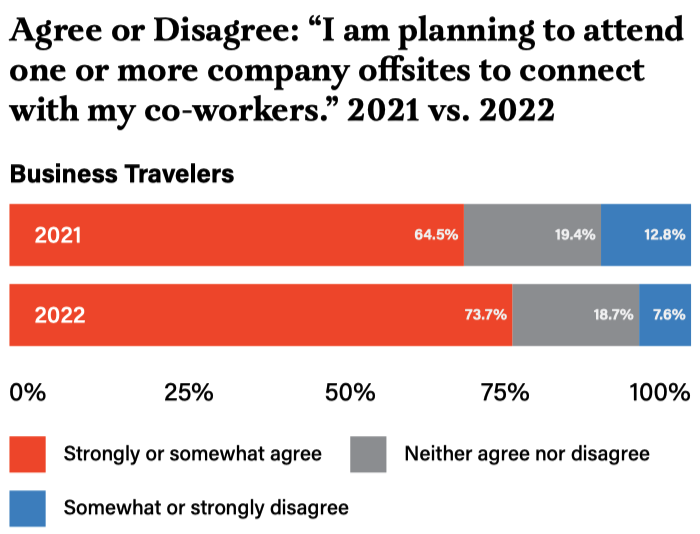 Source: The State Of Corporate Travel and Expense 2023: New Priorities, New Opportunities by Skift and Trip Actions
For these reasons and more, we are bullish on the rebound in corporate travel, especially the new and improved corporate off-site. That is why we are specifically targeting the corporate buyout client segment - through centralized marketing and sales efforts - to drive revenue generation at our short-term rental properties around the country.
Why we like the client segment:
+ Less price sensitivity. Corporate clients, especially those with funds allocated towards travel, tend to be less price sensitive compared to families or other groups traveling for leisure purposes. There's less room for error on these types of stays, so there is a common desire to pay up for quality.
+ Higher amenity spend. This works exceptionally well with our model of proactive hospitality, where our in-house concierge can book a wide array of local experiences through vetted third-party providers (for a fee) to create a bespoke experience desired by each corporate client. The example itinerary below shows the breadth of experiences we can offer clients at our Outer Banks location - we are in the process of rolling out similar services across our properties.
+ Potential for repeat bookings. As the WSJ reports, executives are still determining whether "it may be enough for remote employees to now come together in person once a month, and quarterly in the future," which leaves plenty of room for repeat business.
+ Drive off-peak occupancy. Corporate travelers tend to fill occupancy during periods when leisure travelers might not, including mid-week stays and the off-season when rates are generally lower than they would be otherwise.
Why we are well positioned:
+ Structural advantages of buyout model v. hotel stays. Full buyouts offer increased privacy, a controlled environment for guests, and flexible communal areas/living spaces more conducive to in-person connectivity than lobbies and hotel bars.
+ Larger properties v. traditional single-family home STRs. Our properties tend to be on a larger scale than STR competitors in the marketplace. For instance, in the Outer Banks, we have several homes in the same development, offering up to 25 bedrooms (w/ private bathrooms) for one buyout. Similarly, in West Palm Beach, we are able to offer up to 13 bedrooms (w/ private bathrooms) in our Mediterranean-Style home for the same buyout client.
+ Single point of entry into a portfolio of properties. Our centralized sales and marketing efforts provide a single point of contact to our portfolio of properties in different geographies, with varying retreat focuses (sporting, social, etc.) for any off-site needs.
+ Unified brand. By providing a unified brand across properties (to be announced), we are committed to a quality standard at all locations, providing a B2B relationship compared to a one-off hosted experience.
To give you a sense of what we offer corporate clients looking to book our properties, we've provided an example of one of our corporate group itineraries below:
Ready to take the next step?
Schedule a call with our team today.
Be the first to know
Join our mailing list to learn more about Stomp Capital investing opportunities
Investing involves risk, including loss of principal. Past performance does not guarantee or indicate future results. Any historical returns, expected returns, or probability projections may not reflect actual future performance. While the data we use from third parties is believed to be reliable, we cannot ensure the accuracy or completeness of data provided by investors or other third parties. Neither Stomp Capital nor any of its affiliates provide tax advice and we do not represent you in any manner.