Our Market Outlook for Short-Term Rentals
Over the past couple of weeks, I've shared the value of adding private equity real estate to your portfolio in times of market volatility and discussed why hospitality real estate is the best place to invest right now.
This week, I wanted to connect the two and explain why Stomp Capital believes that hospitality real estate, specifically the short-term rental industry, is poised to continue to grow, despite the deteriorating macroeconomic outlook.
On July 10th, AirDNA released its 2022 mid-year outlook on the short-term rental industry. They shared the below table, which forecasts key statistics for the remainder of 2022 and 2023. The company noted that inflation has allowed for continued growth of ADRs, despite less than ideal market conditions. They commented that the 6.3% predicted increase is "significantly higher than the 4.1% drop [AirDNA] had expected."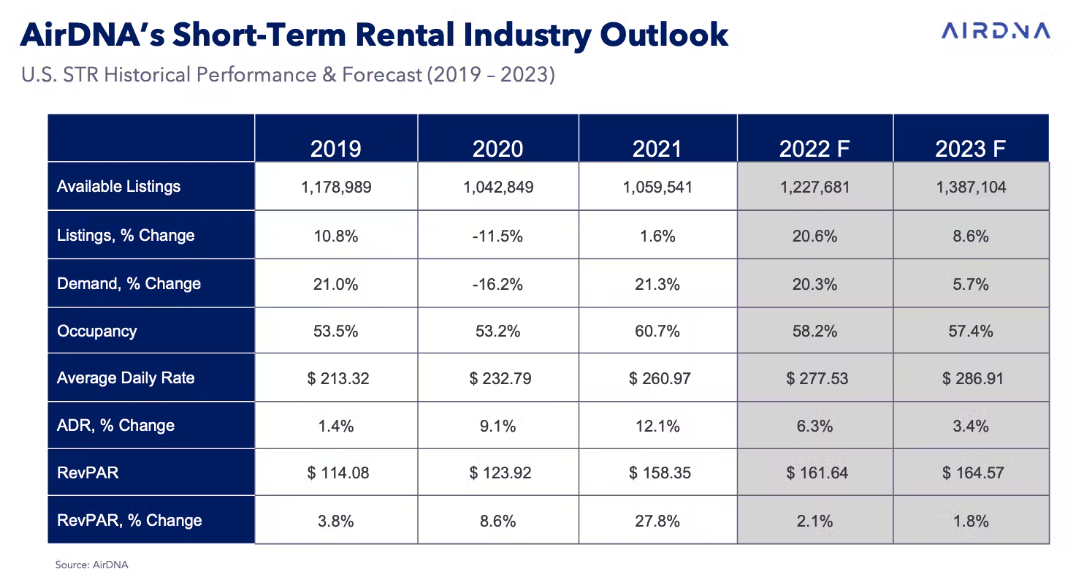 The forecasted changes in occupancy and market listings are also worth highlighting. AirDNA predicts a 2.5% decrease in occupancy from 2021 highs as the number of available listings continues to grow and crowd the market for STRs. With the increased competition, we believe there will be significant dispersion between lodging (STR 1.0) and experiential hospitality (STR 3.0), which is what we offer in our custom-built and professionally operated STRs.
With supply projected to outpace STR market demand, Airbnb agrees with our view that the travelers of tomorrow will continue to prefer experiences > lodging. In early May, founder Brian Chesky announced the experiences tab or "the biggest change to Airbnb in a decade," focused on highlighting the unique experiences designed to bring communities together.
In their Q1 earnings update, Airbnb emphasized the importance of longer-term stays, stating that "stays of a month or longer continue to be our fastest-growing category by tripling compared to 2019." We agree and are focused on creating thoughtfully designed spaces comfortable for the weekend trip as well as the month-long vacation. Our view is that the owners who are able to provide differentiated, experience-focused accommodations comfortable for short and mid-term stays will be best positioned to navigate market uncertainty and deliver superior returns on the other side.
That is why we are raising capital NOW to position Stomp Capital as an acquirer of assets when the real estate market re-prices over the coming months and quarters. I'm bullish on the outlook for the space and believe we are uniquely suited to opportunistically expand our portfolio and deliver attractive, risk-adjusted returns for our LPs.
To hear more about what we've been up to at Stomp Capital, register for our webinar at 12 pm EST on July 27th, where I'll introduce our world-class team and share plans for our Opportunistic Fundraise.
Be the first to know
Join our mailing list to learn more about Stomp Capital investing opportunities
Investing involves risk, including loss of principal. Past performance does not guarantee or indicate future results. Any historical returns, expected returns, or probability projections may not reflect actual future performance. While the data we use from third parties is believed to be reliable, we cannot ensure the accuracy or completeness of data provided by investors or other third parties. Neither Stomp Capital nor any of its affiliates provide tax advice and we do not represent you in any manner.